Aaron Porter Describes Why - And How:
"Measure For Measure is the story of a duke who tries to regain order and justice in his off-kilter kingdom. Our director, Wendy Dann, colorfully described these characters and their worlds as a freakish nightmare where anything was possible. We pulled images from artists like Tim Burton!"
"The scenic designer, Lawrence Moten, created shifting planes of three intersecting circles - one raked, one flat and one revolving. Surrounding these circles were large, swooping jagged shapes. The set design made it easier to frequently highlight something in the foreground while showing hints of action happening around the main action. This vocabulary was set up in the beginning of the show and used heavily in transitions, allowing the show to flow smoothly. It began to take shape much like a dance."
"To accomplish this, I developed a diverse rig. My plot involved 5k fresnels, 4K HMI fresnels, VL 3500 Spots, MAC 500 Wash, Colorblasts, Seachanger Tungstens, strobes, and several conventionals including, Source Fours, fluorescent strips, and birdies. Using these different types of lights, I had an easy ability to focus the audience to a full stage picture or to highlight a single action."
"More than ever, I had to closely pay attention to what colors I used. Because of the different sources, I had to redefine my 'white' light. I wanted to match the intensity and temperature of the HMIs. I found that 161, 174, and 241 helped match the HMIs but also gave depth. I used this very cool white to create a harsh world, a world of imbalance. I then tracked through the show and when an ordered world was discussed or plotted, I warmed up the scene to take the edge off."
"Since my 'white light' was so cool, I found I only needed tints to create an effective warm state. This was tied together at the end of the play when the world restores to order. I was able to fill the picture with warmth, giving a feeling of completeness."
---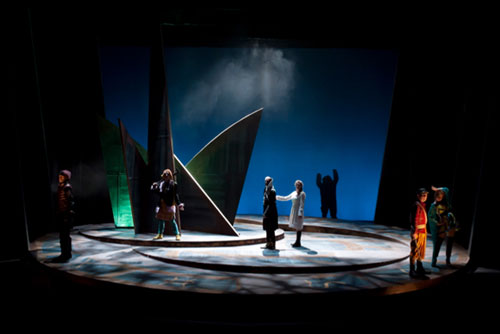 CLR HMI - Back Light

161 w/ GAM726 Smash Template - Top Light (template reflects floor paint treatment)
722 - Cyc
Unjust world. A harsh cold HMI backlight creates silhouette. The templates were a reaction to the floor treatment. They helped feather the HMI center pool with the rest of the stage floor. I also used the blue and green to help contrast the white light; giving the picture depth.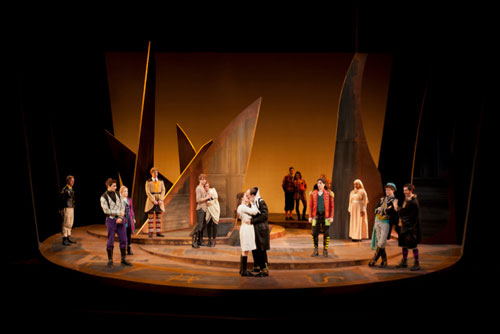 World of justice. The warm light brought out the gold paint details. Since my 'white light' was so cold, I only needed to use tints to make an effective warm scene. I then used my cool area light to help pluck out important characters, allowing the audience to focus through the scene.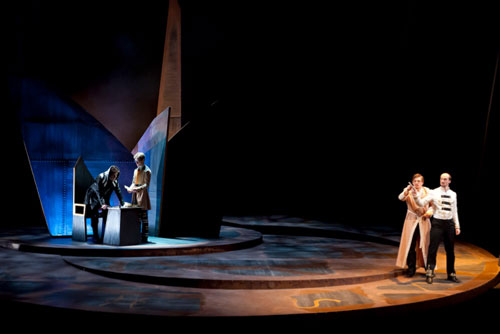 Upstage Scene
CLR 5k incandescent - US of sculpture

161 w/ GAM726 Smash Template - Top Light (template reflects floor paint treatment)
VL3500 in 174 top lights on actors
LED in full cyan up lighting sculpture
Downstage Scene
201 Side Light (cleanly plucks out actors)
ARC source spot light - front light
Here we combined two scenes to create one split scene. I found by using contrasting color temperatures, both scenes could easily live on the same stage. Upstage right, the court receives word about the duke returning. Downstage left the duke prepares to return to the kingdom. This was the only time the warm and cool were used together. By following the shape of the floor, I was able to keep the warmth on the outer ring - separate from the coolness.
Credits for Measure for Measure at Ithaca College
Director - Wendy Dann
Set Design - Lawrence Moten
Costume Design - Grace O'Malley
Lighting Design - Aaron Porter

Biography:
Aaron Porter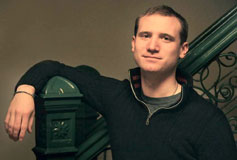 Aaron Porter is a NYC based Lighting Designer and Assistant Lighting Designer of Theatre and Opera. He was named the USITT 2013 Rising Star of the Year award recipient sponsored by LDI/Live Design. He has worked all over country and abroad at companies such as: Broadway, Off-Broadway, Manhattan Theatre Club, Brooklyn Academy of Music, The Santa Fe Opera, The Old Globe, Chicago Shakespeare Theatre, Barrington Stage Company, Signature Theatre Company, Hartford Stage, Florida Grand Opera, Ithaca Ballet Company, State Theatre of Ithaca, Here Arts Center, Fullstop Collective at the Access Theatre, The Bush Theatre (London), The Finborough Theatre (London), Midtown International Theatre Festival and the NYC Fringe Festival. Aaron is a graduate of Ithaca College.
© Rosco Laboratories 1998-
Top ↑